Solari Lineadesign entered into the kitchen of Champeaux.
The "Restaurant Champeaux" is the new brasserie in Paris which, in just over a month after opening, is already a success and a staple destination. The Champeux name derives from that of an old Paris restaurant opened in the year 1800 in the Place de la Bourse, which Emile Zola, a French writer, wrote about at the beginning of his novel "L'Argent." This restaurant is located in the first district under the canopy of the Forum des Halles, one of the trendiest regions in the French capital.
Like a metronome of the brasserie life, the scoreboard at Solari palette, which is 8.6 meters long and 1.5 meters high, flows and is in direct interaction with the kitchen. It also displays menu listings, provides timing for food and drink arrival, lists dish specials and it also showcases the Chef's favorite food preferences. During the day, the board is constantly changing according to the times, while products are being created in the kitchen, thanks to the technology that has made the Solari company known worldwide, such as the vane roller system, which was patented in 1966.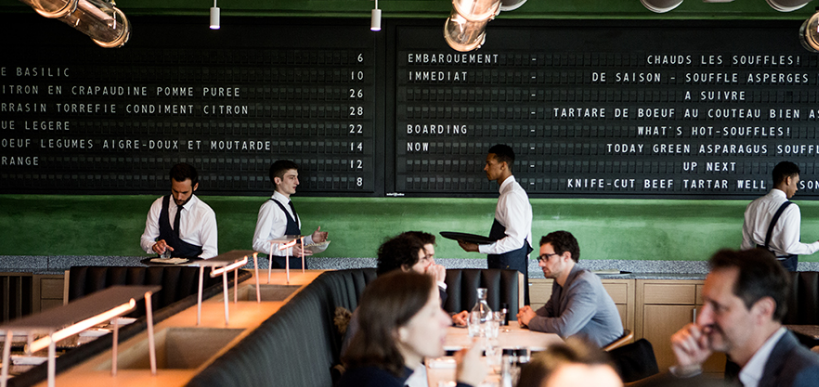 Its unmistakable sound accompanies travelers in airports, stations and subways around the world. Those who want to take home a piece of this monumental atmosphere, can do so thanks to Solari Lineadesign, a company that revolutionized the notion of time from the sixties with the creation of the Cifra 3 and the Dator 60, which were designed by the late Gino Valle.